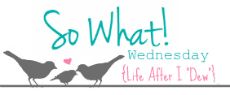 Today I am linking up with Shannon for
SO WHAT WEDNESDAY!
And here is what I have to say "So What?!" to...
-I have been fending off a cold but feel the need for a margarita.
Margs have alcohol in it which kill off infection right?
-if I have a big crush on Ryan Lochte.
Who doesn't?
Right?
-that my heart hurts every day when I put my child in preschool,
I still think of him as being a baby.
Every day is a little better. But geez, this transition is hard.
For me, that is.
-I want about ten different designs of the May Books.
I could totally get my life organized and oh so fashionably.
I mean have you seen these things?
They are beautiful.
-if I wish already wishing for it to be Friday when it was Monday.
Friday, please hurry.