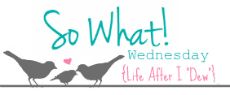 I am saying "So What" on this Wednesday to...
1. if hurricane Isaac caused all of Florida to pretty much shut down and it didn't even hit us.
Its better to be safe than sorry right.
2. if I have taken over my bosses Facebook Page and Twitter account
without having any clue what to post of tweet about.
Who really wants to read lawyer tweet?
Booooring.
3. if that means I now handle a total of
3 Facebook Pages
2 Twitter Accounts
2 Blogs
and don't forget my regular work life and whatever is left for my personal time.
4. if I am super sad that this girl is moving to Orlando at the end of the week.
5. that I bought some cake pops for my Granddad's birthday
and really wanted to add an extra order to the cart and ship to myself.
Maybe next time.
6. if I sleep with a nasal strip on my nose every night.
Seriously I get the best nights sleep when I wear that thing.
I look like a complete fool, but who cares!
7. that Jordan and I have a bit of a Blogging stalker/stealer
and the sad part is we know her in real life.
I guess imitation is a form of flattery.
but seriously girl, get your own followers/content/and sponsors on your own.