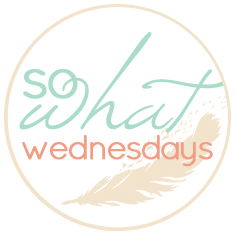 This Wednesday I am saying So What..
- if I was super jealous of all the Blissdom craze.


-if I was stalker-ish on Instagram and Twitter to see the who's who's of Blissdom and who was wearing what and hanging out with whom.
I was totally that girl checking her feed like a tween hunting down the Biebs.


It sounds like it was not that great this year.
I have heard about a lot of clique's.
It totally was not that way last year.


-if I am still going to go next year.
Ride or die, im going!
Baby or not.


-if I am secretly dying to know about these "mean girls" that certain bloggers are talking about.

-that I am praying for Blissdom to be held in Orlando next year.
It will be on my turf.
Well kinda.

-