It's been a while since I have linked up with Shannon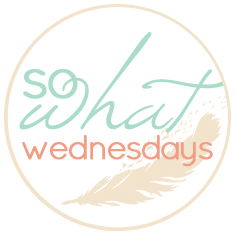 So this Wednesday I'm saying
- that I have a very busy week ahead of me and of course I get sick.
From catching up at work from the days I missed last week to getting together treats for C's schools party, to planning and getting everything ready for his big party this weekend and of course the regular chores of the week like cleaning the house and laundry...blah.
-I feel like I could sleep for a week.
- that I can't take any medications because I'm PG so I get to ride out a sinus infection, sore throat and body aches. Awesome.
- that losing your voice and parenting does not go together...not even close.
Whispering will not be the new parenting technique any time soon.
- that since I have been home sick from work I have been getting into the show that all the bloggers have been raving about...Pretty Little Liars. And yes, yes I am hooked. That A is such a "B".
- The hubs and I have been watching Orange is the New Black and so far it is living up to all the hype. We are loving it, so check it out, its a Netflix only show.
- I am not counting down to meet Baby E #2 or anything.
Only 10 more weeks and 70 days.
I can't wait to meet the little man.
- We have officially and finally picked out a name for Baby E #2 and I can't wait to share it.
But...of course I have to come up with a clever way to blog it :)
Any and all suggestions welcome.