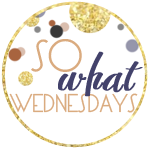 It's Wednesday, and you know what that means....I'm dishing on my "So Whats" for the week with
Life After I Dew
.
- if my maternity leave has been extended another two weeks. Along and frustrating story with lots of sicknesses. But hey, I'm not going to complain. I need the extra time. It actually comes at the perfect time since Christmas is sneaking up on us.
- that I'm done with my Christmas shopping. Don't be jealous! Now I just need to wrap and ship off.
- Even though I'm officially done with my shopping I still haven't finished decorating the house. Guess I should probably do that since Christmas is only a couple of weeks away.
-if I think I have the cutest kids in the Holly Jolly Pj Party link up. Go see them
here
.
- if I am enjoying some hot chocolate as my afternoon delight when its 80 degrees out. I love hot chocolate this time of the year.
- if our new couch that we just got is my favorite piece of furniture in the house solely because it has cup holders. And cup holders that will hold my wine glass perfectly.
Come swing by next week to see what I'm saying So What to next week.