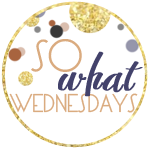 Hey! So what it's only Wednesday?! Yep, so what! Shannon from
Life After I Dew
said that it's ok to complain and you know what. I'll take you right up on Shannon.
- That Christmas is exactly one week away. Ahhhh I still have so much to do. I have all my shopping to do but NOTHING is wrapped and I don't have my menu planned out.
- Every year I have a theme for my gift wrap. This year is snowman and stripes. I still need to stock up on some ribbon though. My packages have to have big bows on them. They say the bigger the better right? Oh and glitter and sparkles. Big sparkly bows make a package IMO.
-I don't have enough time in the day to get everything I need to get done done and still get my required 9 hours of sleep in. This imposes a problem for me. I must get my sleep.
-I needed my maternity leave extended another month. I like to think if I had this extension then everything would already be completed and I would not be this stressed out. Doubtful but a girl can dream that her wish list was all checked off right?
-Being back at work. Sucks. That is all on that subject.
- If I got my Macbook last year for Christmas and am still pretty clueless on how to use this thing. Any tips on a good site to go to to learn some simple tips and tricks?
-That I have been indulging in Hot Chocolate in the afternoons even though it is 80 degrees here.
-That I hate the cold. Christmas in Florida requires it to be no colder than 70 degrees. That is my mind of Christmas. Who needs the cold? Not this girl!
Did the words "glitter and sparkle" help deter you from all my complaining? I personally love those words. They make me happy, SO WHAT!