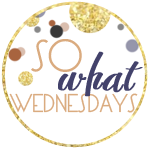 How did it get to be Wednesday already? I feel like I never say that. But, I'm not complaining! Closer to FRIDAY!! And Soooooo What....
-that I am the biggest banner on
Life After I Dew
's blog this month. Yep! I'm her sponsor and so glad I decided to sponsor her. I just adore her blog, with her cute family and her awesome work out seshs.
- that it was 40 degrees here in Florida yesterday and I thought that was freezing until I checked out my Facebook and saw how cold it was everywhere else in the world but in Florida. How do you all take all that cold?! No thanks!
-That I decided that 2014 is MY year. My year to get organized, fit and healthy. So I made myself a printable to keep up with goals and can see them right in front of me. Annnd, I made one for YOU too. All you have to do is print it out and write on it, and keep up with your goals throughout the year. You can see my full post about it in my
Achieve Your Goals Post
.
Kinda cute huh.
Now go print it or Pin for later.
-I bought another adorable onsie from
Swanky Shank
. I mean Valentines Day is coming up and Aussie had to have something cute to wear right? Valentines Day isn't just pinks for girls. Boys can rock red and hearts too. Especially when it comes from
Swanky Shank
.
-that every Friday I go to Starbucks to try and hammer out my social media to do list. I just can't seem to find the time to do it during the week with my crazy schedule. It is so calming to grab a cup of coffee and just have one on one with my computer. Serenity. Now, I just can't wait for Friday to get here.