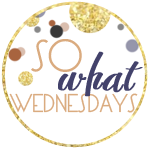 Thank heavens it's Wednesday! Totally doing the happy dance while I'm writing this post and sippin on my coffee. Here are a few things I'm saying "So What" to this week...
- that we have a little trip planned for this weekend and I'm already mostly packed. We aren't leaving until Friday but I hate the last minute rush so I try to get it all done as soon as possible.
- if I have this relaxing idea in my head how this trip will go but in my heart know it wont go that way. I have dreams of a wrap around porch and me not getting up the whole time, except for refills on my wine. How it will go, I will end up chasing around a toddler and probably giving in to a few melt downs since he is off his schedule.
- that our anniversary is coming up soon and I am clueless on what to get him or to do?! Any ideas or suggestions are welcomed!
- if my spring wardrobe looks pitiful. I will hopefully be resolving that issue shortly. Wish I could buy weight loss.
- if I have a thing for Tory Burch flip flops. I own several of her shoes from flats to flips and they are by far my comfiest flips (and flats). Too bad they are so dang expensive. Hmmmm maybe that will be a good Mother's Day pressie.
Come see what everyone else is saying So What to do this week over at
Life After I Dew
.